My name is Dane Wilcox. I was born in Portland, Oregon and have lived here most of my life. My maternal great-grandfather moved to America to start a new life in the land of opportunity. On my father's side of the family, I can trace my ancestors back to the Mayflower. No matter how you look at it my family, like so many others, came to America to pursue their dreams.
My father started an accounting firm before I was born. My mother raised myself and my three other siblings while also doing bookkeeping at my father's practice. Money was always tight growing up and from an early age we all learned the value of hard work. During tax season I would help my father by formatting hundreds of floppy disks and other simple tasks at his office.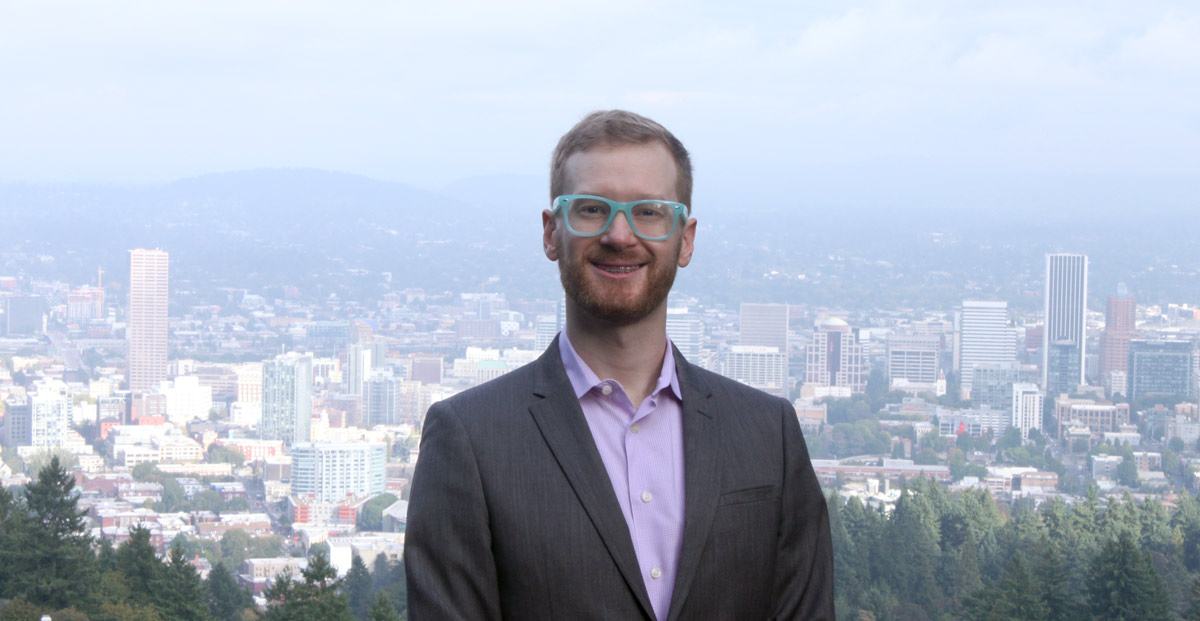 Unfortunately, my parents separated while I was in grade school. We moved in with my grandmother while my mom returned to college to become a teacher. My brother and I shared a bunk bed in our family room without any doors for privacy. I grew up witnessing firsthand the struggle of people trying to get an education while supporting a family. Extended family support was what made it possible for my mother to get an education and a job to get back on her feet. Those experiences taught me compassion and understanding of what people go through to get by. Without childcare assistance from my grandmother and aunts, things would have turned out very differently in my life.
Several years before high school I started working with my best friend mowing lawns and doing yard work for neighbors. Eventually one of our clients hired me to work at their Dairy Queen franchise where I remained for about five years. During high school I was active in sports practicing two to three times a day six times a week while simultaneously working over 15 hours a week flipping burgers. During this time I was also teaching myself computer and network administration and managed several small networks.
After high school, I attended Oregon State University to learn more about computer science. I worked at a pizza place my freshman year until a company in Portland hired me to manage house painting. Scheduling my classes Tuesday through Thursday, I was able to drive home every week and work the other four days a week. I worked for this company for my first two years of college. This was my first real experience managing people, and at my peak I oversaw 12 employees through the hiring and training processes. That was also my first experience learning about labor laws and how companies can take advantage of their workers.
I ended up taking credit card loans to pay for equipment and never getting paid back. That was devastating to a poor college student, and I ended up in my first lawsuit. I did everything I could to try and report the predatory practice and prevent what happened to me from happening to others, but I ran out of money and had to abandon the legal challenge. The experience really ingrained into me why workers need protection and the advantages of collective bargaining.
Lack of money forced me to leave college and take up other work. Shortly after leaving college my father's network and computer administrator passed away from a heart attack. Due to my history in computers, I took the job to help my father recover passwords and manage hardware and software. Finding that he didn't have a need for a full-time IT manager, I started preparing tax returns. Eventually, I found a niche market with small businesses that would only need part-time computer services and was able to start my own consulting company. Working for businesses across many different industries I gained invaluable insight into how people and companies work. Through consulting, I started volunteering my time at a non-profit women's shelter where I still volunteer to this day.
While I have always been competent in technological fields, my work passions have never been behind a computer. I shifted most of my work time into building a hot sauce company I started in 2015. Advertising my hot sauces brought me to Boston, Massachusetts where my airport Uber driver robbed me. I first tried to contact Uber. Their refusal to help forced me to go to the police. When the police also refused to help I took action myself, filing a lawsuit in Boston against Uber. After six months and two round-trip flights to Boston for court hearings I eventually won the case. I posted all of my experiences online and how I won so when someone searches for "Uber robbed me", they will be able to get information on what to do if it happened to them.
I was raised to believe if I there was something I don't like then I should work to fix it. Over the last 5 years I have become increasingly frustrated with politics in America. When I was younger I dreamed of retiring from work early so I could spend my time making a difference in people's lives. Well I cannot wait.
In 2020 America will come to a fork in the road. We are now under a corrupt administration being held hostage by a party that cares more about enriching themselves and party self-preservation than taking care of their struggling citizens. Large corporations are working to benefit the top percent of people while acting recklessly with American lives and our future. Congress is rife with career politicians who focus on doing what is best for maintaining their seats and promoting the interests of their donors rather than doing what is ethical.
That is why I am running for congress. We need to do what is right for our country, what is right for the people, and what is right for the world.
I have fought to do the right thing throughout my personal and work life, let me continue to fight for you as an American, and as a human. When you get your ballot, vote Dane Wilcox for Congress.